gold bar Geiger original 250 g .9999
250 gram finest precious metall framed as a perfect design masterpiece. This beautiful gold bar combines beauty, craftsmensh…
More
250 gram finest precious metall framed as a perfect design masterpiece. This beautiful gold bar combines beauty, craftsmenship and the secure feeling of a bar with the maximal security standards of Geiger Edelmetalle.
With this minted bar series, with the wonderful castle Güldengossa on the front, we offer you the successor of the Security Line bars.
The bar series consists of a wide range of gold and silver bars, starting with the 1 gram up to 1.000 gram in gold and 5.000 gram in silver.
The bar comes sealed within foil together with a certificate of authenticity.
More information about the Geiger original bars you can find HERE.
You want to be informed when the price of gold bar Geiger original 250 g .9999 reaches a certain value? If so, please specify your price.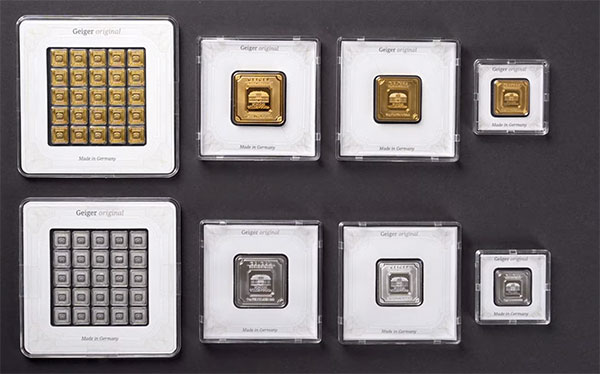 andere Artikel des Herstellers