"Nightingale" 20 Euro Gold (2016) "Heimische Vögel" 1/8 oz gold coin - various mints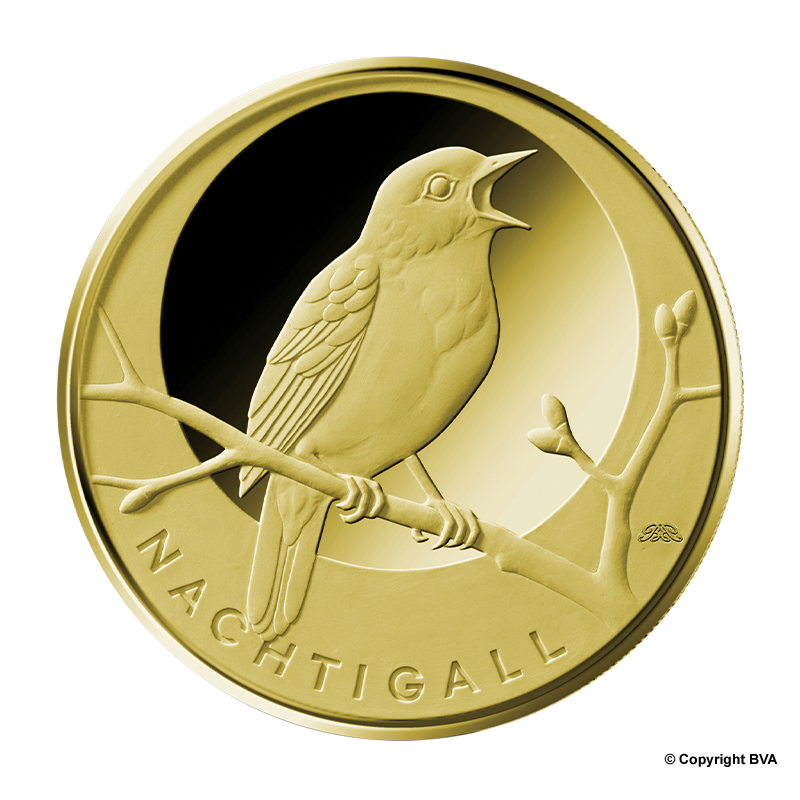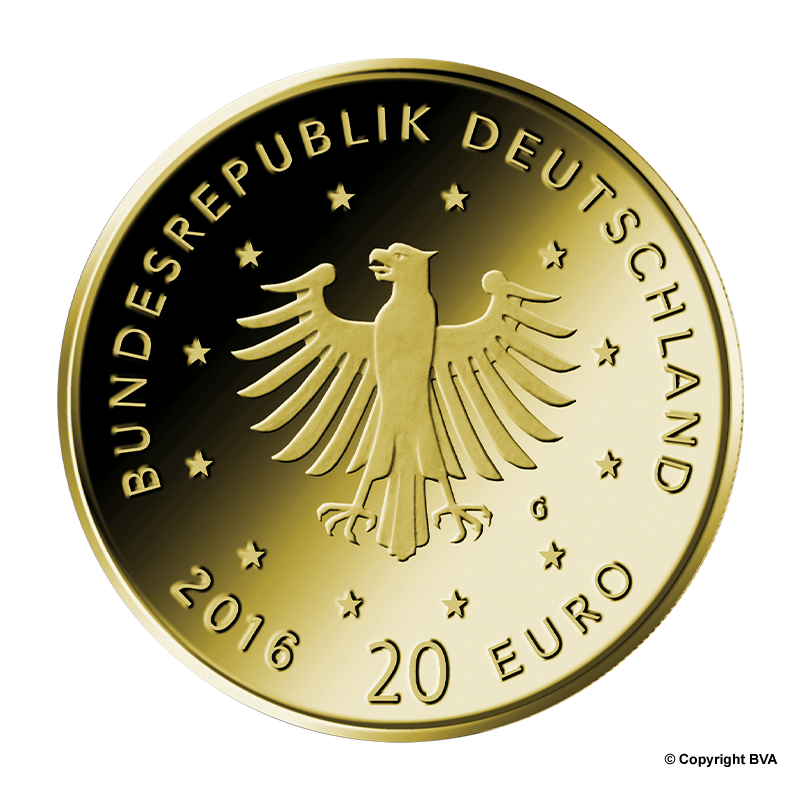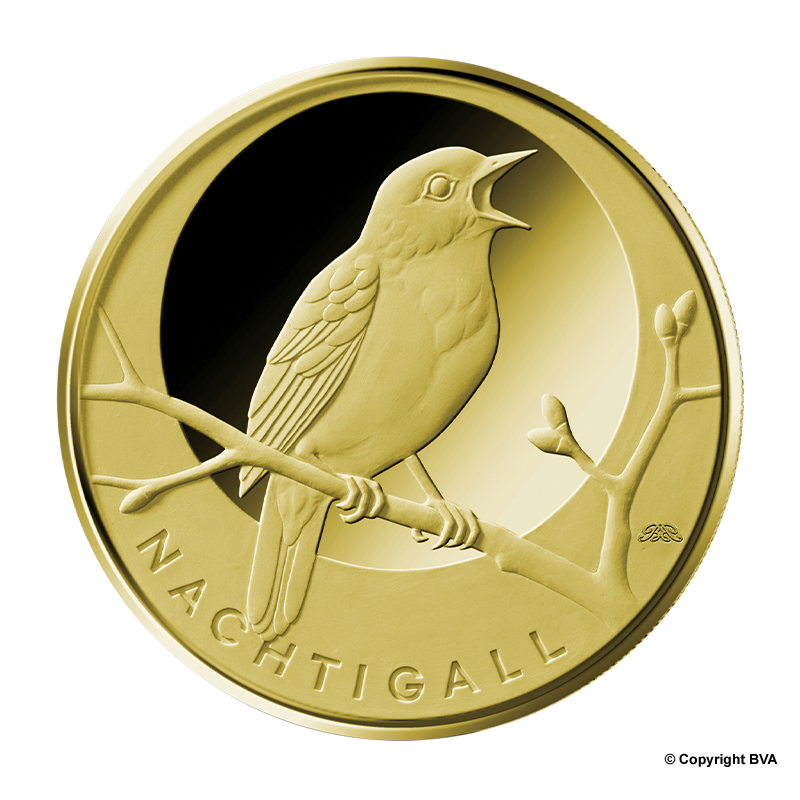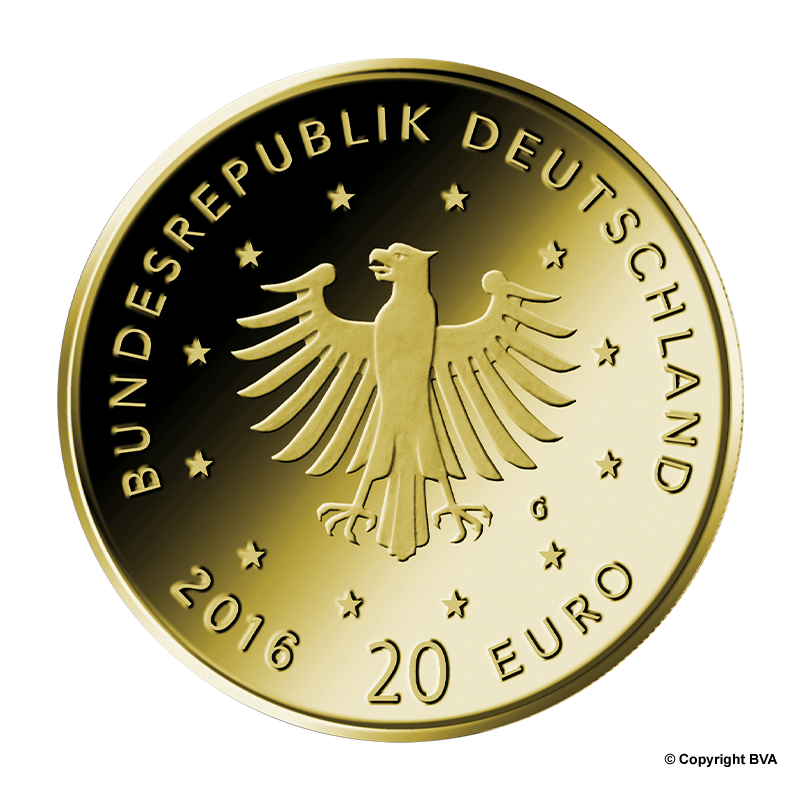 "Nightingale" 20 Euro Gold (2016) "Heimische Vögel" 1/8 oz gold coin - various mints
3,89 g fine gold
| | |
| --- | --- |
| Issuing country: | Australia |
| Metal: | Gold |
| Weight: | 1/8 oz |
| Year: | 2016 |
| Packing: | In Münzkapsel |
| Nominal value: | 20 Euro |
| Manufacturer: | Münzprägeanstalten Deutschland |
The new coin series "Domestic birds" made of fine gold.Here is a 1/8 oz gold coin with a fineness of 999.9, which correspond…
More
The new coin series "Domestic birds" made of fine gold.
Here is a 1/8 oz gold coin with a fineness of 999.9, which corresponds to a weight of 3.89 g.
The gold coin series "Domestic birds" from Germany is the successor to the coin series "German forest".
The series "German Forest" ended in last year in June 2015, the "Linde".
The issue date of the new series, published by the Ministry of Finance of the Federal Republic of Germany, is 23rd June 2016.
The first motif of this series is a singing nightingale, designed by artist Bodo Broschat from Berlin. The value side was designed by Adelheid Fuss from Schielowsee / Geltow.
The face value of coin series is 20 €. This first coin comes exclusively within a collectors box made from acrylic glass. The coin comes freshly minted in a plastic capsule with a certificate of authenticity.
The limitation of the series is 200,000 pieces per design and 40,000 pieces per mint.
The following mints are available: A - Berlin, D - München, F - Stuttgart, G and J -Karlsruhe - Hamburg
The other motifs in the series are:
oriole 2017
owl 2018
Peregrine Falcon 2019
White Stork 2020
Black Woodpecker 2021
photographer: Hans-Joachim Wuthenow, Berlin
You want to be informed when the price of "Nightingale" 20 Euro Gold (2016) "Heimische Vögel" 1/8 oz gold coin - various mints reaches a certain value? If so, please specify your price.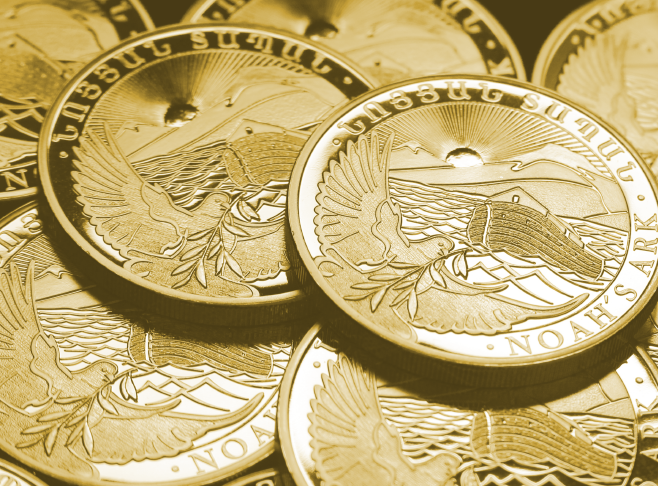 andere Artikel des Herstellers