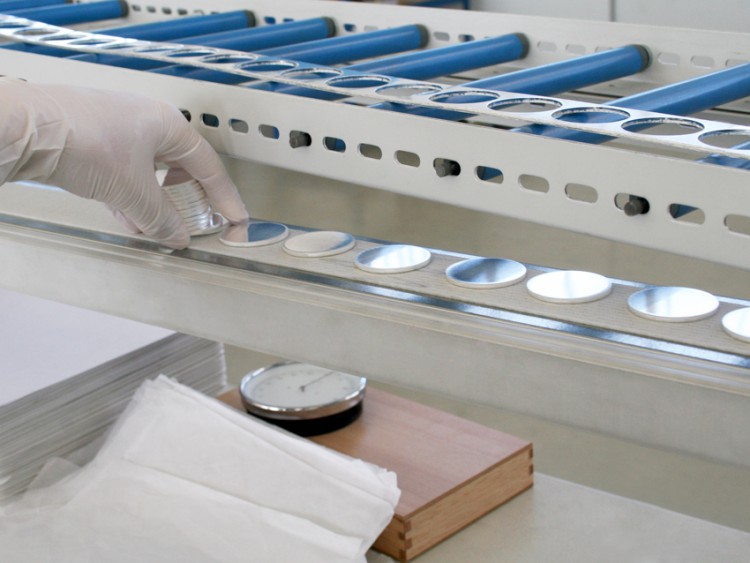 Own production

---
GEIGER PRECIOUS METALS - QUALITY MADE IN GERMANY
Thanks to the cooperation with our sister company, Leipziger Edelmetallverarbeitung, we can offer our customers first-class precious metal products from our own production. It starts with the selection of our raw material suppliers. We source our raw materials exclusively from suppliers who are certified and approved according to the "Good Delivery" standard of the London Bullion Market Association (LBMA).
State-of-the-art technologies enable and ensure the precise manufacture of the products. The quality of the products is continuously controlled throughout the manufacturing process. Only tested products leave our house!
GEIGER ORIGINAL - CAST BARS
The cast bars of the Geiger original series are the bars for investors that have been introduced since 2022 at a particularly attractive price.
As a recognition feature, the Güldengossa Castle can be found on the front of this cast ingot. A certificate including the serial number is shrink-wrapped in foil on the back of the bars.
The bars are available in the following sizes:
Gold: 100 g, 250 g, 500 g und 1 kg
Silver: 100 g, 250 g, 10 oz, 500 g, 1 kg und 5 kg
Copper: 500 g, 1 kg, 5 kg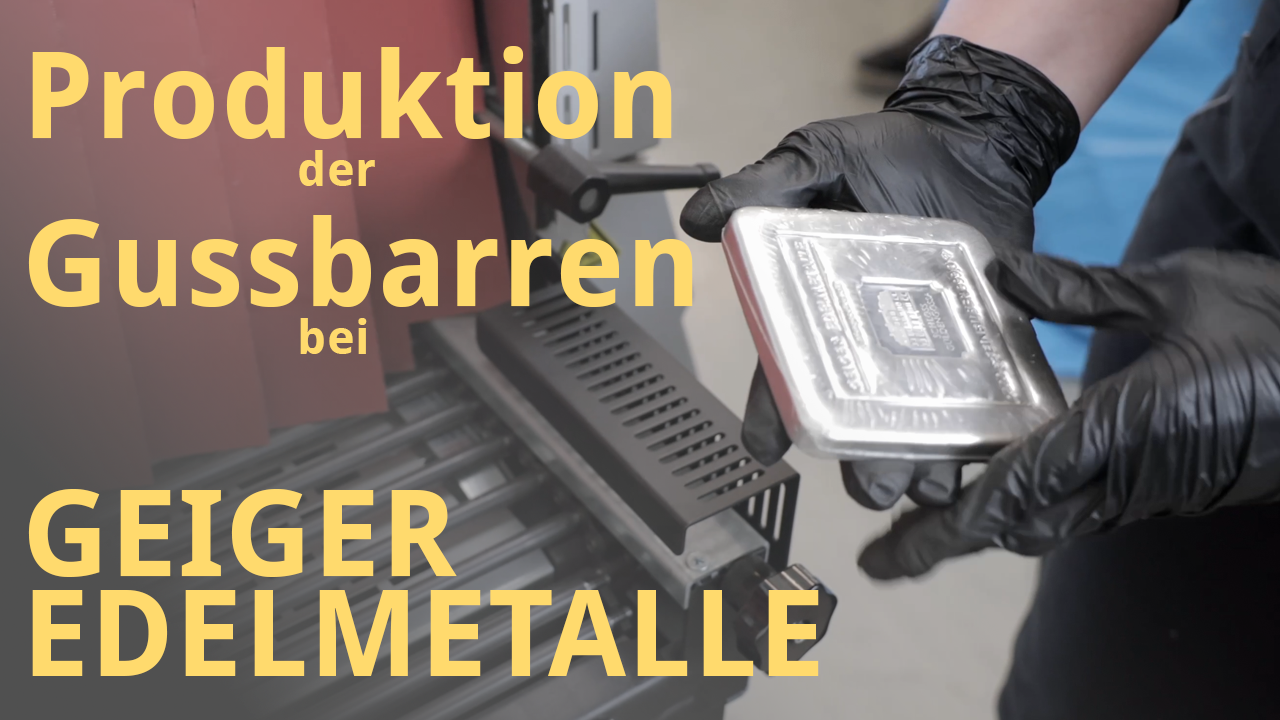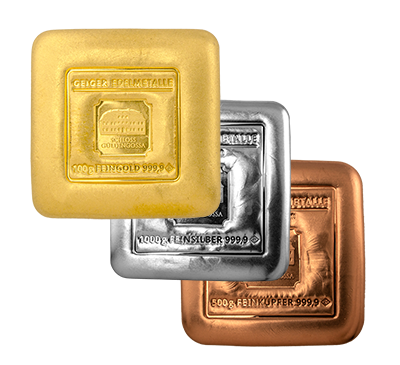 GEIGER ORIGINAL - PREMIUM BARS
Geiger original are the premium bars from the Geiger Edelmetalle group of companies.
Elegant design meets the highest level of safety and quality squared. A perfectly designed range of the finest precious metal bars can be purchased in various sizes from 1 gram to 1 kilogram in gold and 5 kilograms in silver in elegant packaging.
The bars are characterized by the highest embossing quality and well thought-out and unique security features. From small 1 gram bars to 1,000 grams in gold and 5,000 grams in silver, you have a complete portfolio that has the right product for every investment strategy.
From the individual packaging in the capsule, through the multicards with 25 bars in a large capsule to the space-saving packaging in the tube. The individual packaging of the bars also makes the premium bars a nice gift and ensures perfect storage.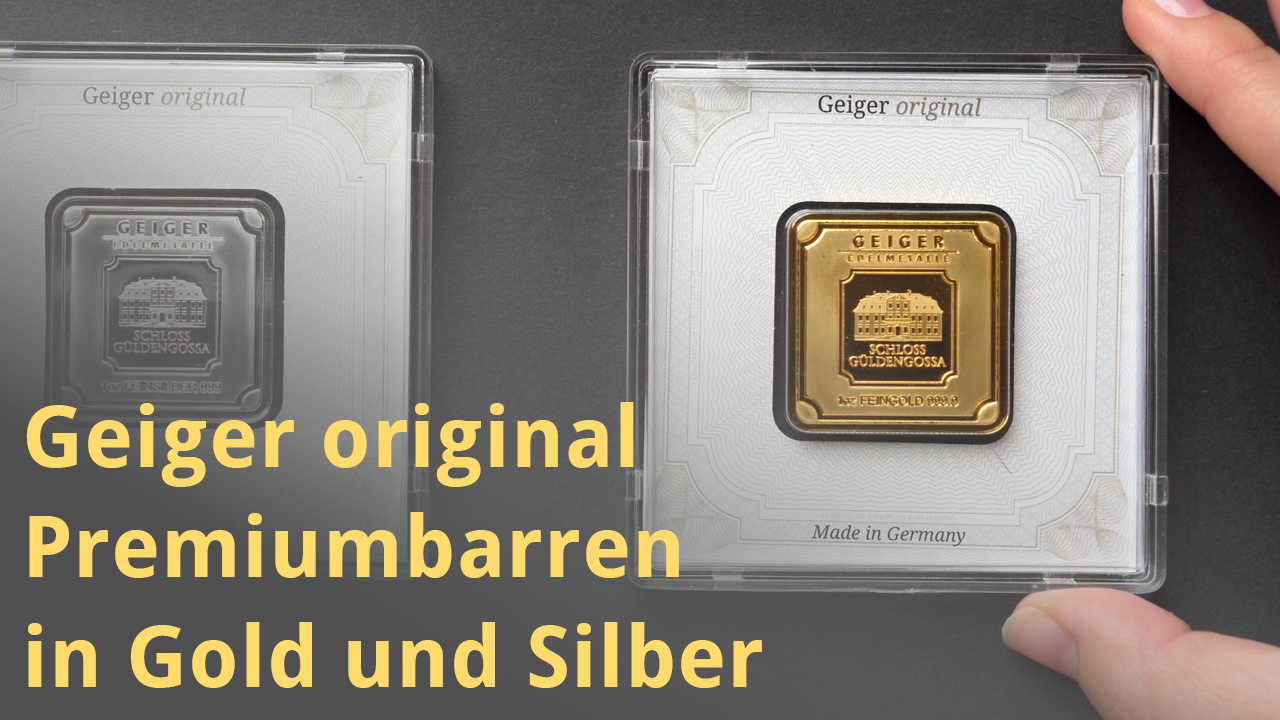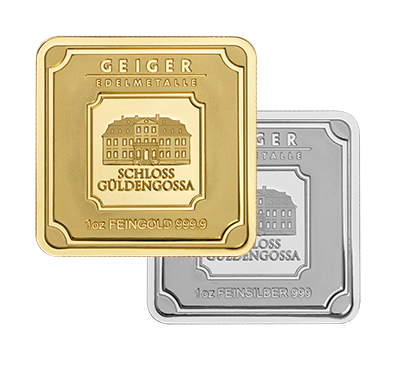 NOAH'S ARK - BULLION COINS IN GOLD AND SILVER
Noah's Ark is an exclusive bullion coin that is issued annually in silver and gold. The coin is considered legal tender in the Republic of Armenia: quality, weight and purity are guaranteed by the state. Noah's Ark is produced according to the highest quality standards in one of Geiger Edelmetalle's most modern mints.
The silver bullion coin was launched in 2011 for the first time. This beautiful silver coin is available in seven sizes: ¼ oz, ½ oz, 1 oz, 5 oz, 10 oz, 1 kg and 5 kg. Geiger Edelmetalle AG uses the HQC SYSTEM to protect the Noah's Ark silver coins from "tarnishing" in the long term.
Unlike common bullion coins, the gold bullion coin with a refined certificate of authenticity, including consecutive numbering, is packed in a security capsule that can only be opened by destroying it.