The Queens Beasts "alle Motifs" - United Kingdom 1 oz goldcoin
The Queens Beasts "alle Motifs" - United Kingdom 1 oz goldcoin
31,1 gram fine gold
Please note, this product has been in circulation before.All products are tested on their authenticity by our team of expert…
More
Please note, this product has been in circulation before.
All products are tested on their authenticity by our team of experts.
The picture of this article is a sample picture as the brand may vary.
You can't collect any special minting years or coins motifs.
The british gold coin "Queen's Beast" is a series which began in 2016. The bullion gold coin is issued by the Royal Mint in England.
This renders the gold coin attractive for both collectors and investors alike.
Reverse and obverse will be designed from now on by the british coin designer Jody Clark.
"The Queens Beasts" are ten heraldic statues, which haven been used on the coat of arms of the United Kindom, for example. .They received their name in 1953 at the coronation of Queen Elizabeth II, when the mason James Woodford created ten statues based on the former coat of arms. These creatures were now known as the "The Queens Beasts". Therefore the other motifs also display a british coat of arms or heraldic elements.
The coin is delivered in an original package when you order ten pieces and in a masterbox when you order 200 pieces. The coin series are issued with a fineness of 999,9/1.000.
With each motif, a 2 oz silver coin, 1 oz gold coin and a 1/4 oz gold coin with the same motif were issued.
Here you find an overview of all motifs in the series:
The Lion of England

The Griffin of Edward III.

The Falcon of the Plantagenets

The Black Bull of Clarence

The Yale of Beaufort

The White Lion of Mortimer

The White Greyhound of Richmond

The Red Dragon of Wales

The Unicorn of Scotland

The White Horse of Hanover
Investment gold is exempt from tax under § 25c UStG.
You want to be informed when the price of The Queens Beasts "alle Motifs" - United Kingdom 1 oz goldcoin reaches a certain value? If so, please specify your price.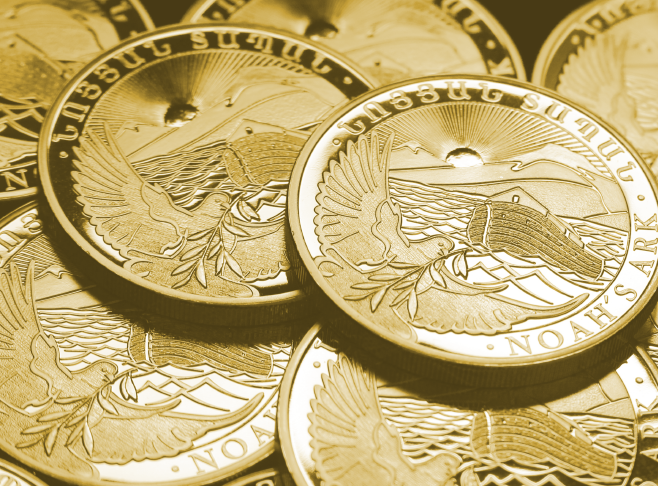 other items from the manufacturer