Tscherwonetz 10 Rubel 7,74 g Gold
Tscherwonetz 10 Rubel 7,74 g Gold
7,74 gram fine gold / 8,60 g gross weight
| | |
| --- | --- |
| Issuing country: | Russia |
| Metal: | Gold |
| Weight: | 8 g |
| Year: | Diverse |
| Dimension: | D: 22,60 mm / H: 1,70 mm |
| Packing: | einzeln in transparenter Münztasche |
| Nominal value: | 10 Rubel |
| Manufacturer: | MMD Moskau / LMD Leningrad |
The Tscherwonetz was the denomination of the new Soviet banknotes between 1922 and 1947. It was first minted as a gold coin…
More
The Tscherwonetz was the denomination of the new Soviet banknotes between 1922 and 1947. It was first minted as a gold coin in 1923. Only one copy from the 1925 vintage is known. Between 1975 and 1981, gold Tscherwonetz were minted in the Soviet Union to be sold abroad as bullion coins. The motif on the obverse of the gold Tscherwonetz shows a Soviet peasant in a field, with high smoking chimneys in the background. On the other side is the coat of arms of the Russian Soviet Federative Socialist Republic (RSFSR, Russian PCФCP). The lettering SSSR, Russian CCCP, is embossed on the specimen from 1925. The fact that the Tscherwonetz is red gold is due to the copper content of 10%. Therefore, the raw weight of this coin is 8.60 g with a proportion of 7.74 g fine gold.
Investment gold is exempt from tax under § 25c UStG.
Please note the image is just an example, not the actual coin.
You want to be informed when the price of Tscherwonetz 10 Rubel 7,74 g Gold reaches a certain value? If so, please specify your price.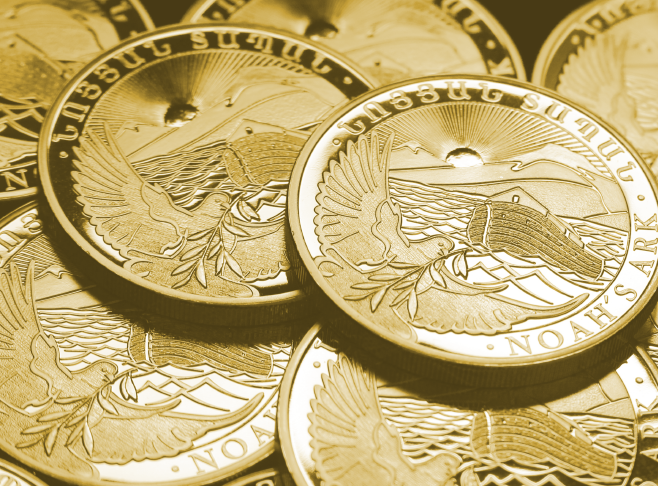 other items from the manufacturer