100 euro gold coin "Quedlinburg" 2003 - Germany 1/2 oz gold coin
100 euro gold coin "Quedlinburg" 2003 - Germany 1/2 oz gold coin
15,55 gram fine gold
expected delivery 1-3 days
| | |
| --- | --- |
| Issuing country: | Germany |
| Metal: | Gold |
| Weight: | 1/2 oz |
| Year: | 2003 |
| Dimension: | D: 28,00 mm / H: 1,65 mm |
| Packing: | capsuled, in original case with certificate |
| Nominal value: | 100 Euro |
| Manufacturer: | Münzprägeanstalten Deutschland |
The 100 Euro gold coin "World Heritage City of Quedlinburg" is delivered individually encapsulated in the original coin case…
More
The 100 Euro gold coin "World Heritage City of Quedlinburg" is delivered individually encapsulated in the original coin case with certificate of authenticity by the Deutsche Bundesbank. Due to the strictly limited mintage of 400,000 pieces worldwide, this coin is ideal as a value investment - perfect for collectors and newcomers. Significantly involved in the design of the motif of this 100 euro coin was the artist Agatha Kill. The inscription on the commemorative coin is "UNESCO World Heritage Site - City of Quedlinburg ". The gold euro coins with a fineness of 999.9/1000 (fine gold) are minted evenly in all five mints of the Federal Republic of Germany (A, D, F, G and J) with annually changing motifs. Secure yourself this unique piece of German contemporary history. Due to the low mintage for collector coins, this unique gold coin promises a high appreciation potential. The issue price was 190 euros in 2003. The 100 Euro coins of this series already issued are 2002 Euro introduction, 2003 Quedlinburg, 2004 Bamberg, 2005 Soccer World Cup 06, 2006 Weimar, 2007 Lübeck, 2008 Goslar, 2009 Trier, 2010 Würzburg, 2011 Wartburg, 2012 Aachen/Aachen Cathedral, 2013 Dessau-Wörlitz, 2014 Lorsch Monastery.
Investment gold is exempt from tax under § 25c UStG.
You want to be informed when the price of 100 euro gold coin "Quedlinburg" 2003 - Germany 1/2 oz gold coin reaches a certain value? If so, please specify your price.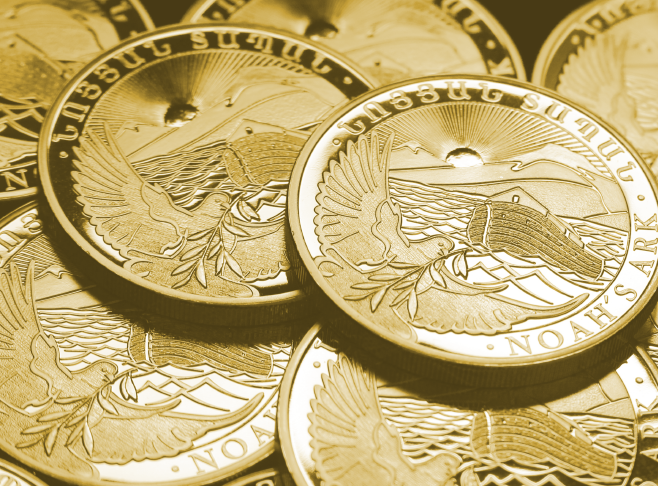 other items from the manufacturer