200 Euro gold coin "Euro-Einführung" 2002 - Germany 1 oz Gold - Various Mints
200 Euro gold coin "Euro-Einführung" 2002 - Germany 1 oz Gold - Various Mints
31,1 gram fine gold
Available in 7 days, delivery time 4-7 days
| | |
| --- | --- |
| Issuing country: | Germany |
| Metal: | Gold |
| Weight: | 1 oz |
| Year: | 2002 |
| Dimension: | D: 32,5 mm / H: 2,45 mm |
| Packing: | einzeln gekapselt in der Original Münzschatulle mit Echtheitszertifikat |
| Nominal value: | 200 Euro |
| Manufacturer: | Münzprägeanstalten Deutschland |
The 200 Euro gold coin "Transition to Monetary Union - Introduction of the Euro" is delivered individually encapsulated in t…
More
The 200 Euro gold coin "Transition to Monetary Union - Introduction of the Euro" is delivered individually encapsulated in the original coin case with certificate of authenticity of the Deutsche Bundesbank.
Due to the strictly limited mintage of 100,000 pieces worldwide, this coin is ideal as a value investment - perfect for collectors and newcomers.
The design of the image side of the 200 euro coin comes from the Neuberg artist Anton Zvone Jesovsek and portraits Germany's connection to the new currency. The inscription on the commemorative coin reads "Transition to Monetary Union - Introduction of the Euro". The Goldeuro coins with a fineness of 999.9/1000 (fine gold) are minted evenly distributed in all five mints of the Federal Republic of Germany (A, D, F, G and J). Secure this unique piece of German contemporary history. Due to the low mintage for collector coins, this unique gold coin could have a high potential for value appreciation. The 200-Euro gold coin was minted only in 2002. The issue price at that time was 371 euros.
You want to be informed when the price of 200 Euro gold coin "Euro-Einführung" 2002 - Germany 1 oz Gold - Various Mints reaches a certain value? If so, please specify your price.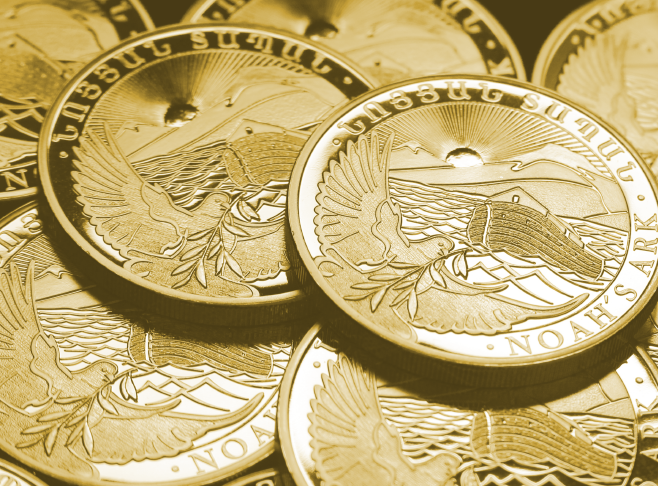 other items from the manufacturer