20 Kronen - Austria gold coin
Bitte beachten Sie, dass das Angebot nur gilt solange der Vorrat reicht.Die österreichische 20 Kronen Goldmünze ist unter Sa…
More
Bitte beachten Sie, dass das Angebot nur gilt solange der Vorrat reicht.
Die österreichische 20 Kronen Goldmünze ist unter Sammlern eine beliebte Anlagemöglichkeit. Die Krone blickt auf eine lange Geschichte seit ihrer Einführung im Jahre 1892 zurück. Bis 1915 fungierte sie als offizielles Zahlungsmittel in Österreich-Ungarn.
Die Vorderseite zeigt das mehrfach veränderte Portrait des österreichischen Kaisers Franz Joseph I. und das darunter stehende Prägejahr. Auf der Rückseite ist der doppelköpfige Adler abgebildet, das Wappentier des österreichischen Kaisertums.
Die 20 Kronen Münze besitzt ein Gewicht von 6,09 g, bei einer Feinheit von 900/1000. Durch das in der Münze enthaltene Kupfer bekommt sie einen rötlichen Schimmer, ähnlich wie der Krügerrand. Eine Besonderheit der Krone ist, dass sie bis 1989 nachgeprägt wurde. Diese hier angebotene Nachprägung ist mit dem Jahr 1915 datiert, dem letzten Prägedatum der 20 Kronen.
You want to be informed when the price of 20 Kronen - Austria gold coin reaches a certain value? If so, please specify your price.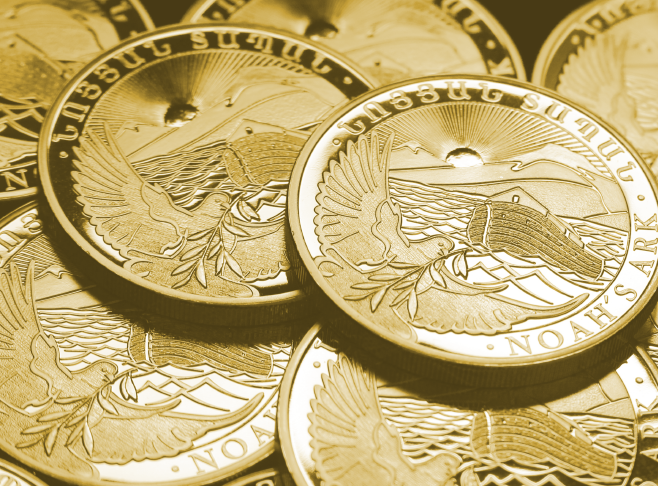 other items from the manufacturer