4 ducats of Austria - 13,76 g gold coin
Der hier angebotene Dukaten mit dem Bildnis des österreichischen Kaisers Franz Joseph I., ist eine Nachprägung, die mit dem…
More
Der hier angebotene Dukaten mit dem Bildnis des österreichischen Kaisers Franz Joseph I., ist eine Nachprägung, die mit dem letzten offiziellen Prägejahr des Dukaten herausgegeben wurde. Der Dukaten hat seine Anfänge als Währung in Venedig im 13.Jahrhundert. Die weitverzweigten Handelsbeziehungen der Venezianer machten den Dukaten in ganz Europa so bekannt, dass nun auch die Fürsten begannen eigene Dukaten zu prägen. Die meisten Dukaten stammen allerdings aus Österreich, aber die Produktion wurde aufgrund des I. Weltkrieges eingestellt.
Die Vorderseite zeigt Kaiser Franz Joseph I. mit Lorbeerkranz und am Münzrand steht " FRANC IOS I D G AVSTRIAE IMPERATOR". Übersetzt bedeutet dieser Schriftzug "Franz Joseph I. durch Gottes Gnaden Kaiser der Österreicher".
Die Rückseite zeigt den doppelköpfigen Adler, das Wappentier des österreichischen Kaisertums. Um den Adler befinden sich das Prägejahr und noch ein Schriftzug auf Latein, der lautet "LOD ILL REX A A 1915 HVNGAR BOHEM GAL" (König von Lodomerien, Illyrien, Ungarn, Böhmen und Galizien).
Der vierfache Dukaten hat ein Gewicht von 13,964 g und einen Goldanteil von 13,769 g. Dies ergibt sich aus dem Feingehalt von 986/1000, da Kupfer als Legierungsmetall verwendet wurde um die Münze kratzfester zu machen.
Der Dukaten überzeugt letztendlich durch seine Geschichte und seine daraus folgende Bekanntheit. Des weiteren sind Nachprägungen nahe am Goldpreis zu erwerben, da sie keinen nennenswerten Sammlerwert besitzen. Also ideal für Anleger, die sich für eine Münze mit einer langen Geschichte zu einem attraktiven Preis interessieren.
You want to be informed when the price of 4 ducats of Austria - 13,76 g gold coin reaches a certain value? If so, please specify your price.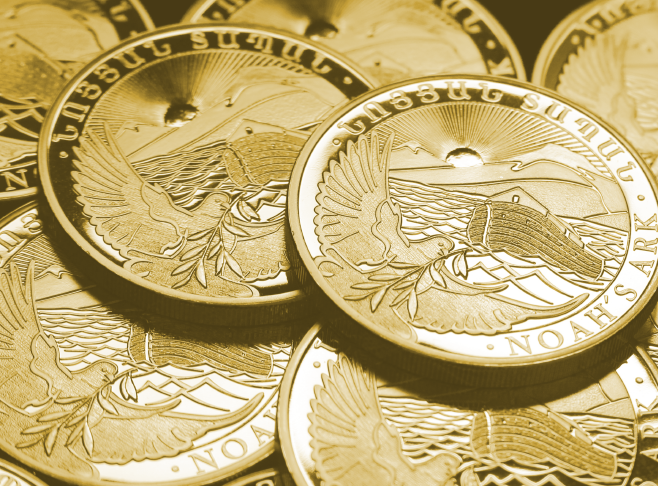 other items from the manufacturer